Now a day's first preference for online information is Internet. Means whoever is in search of any kind of service or product he/she will be searching it over the internet. That means it is very important to have strong online presence to increase your business. And that also tells us how important your website is because that is the primary resource of your online presence. In this article we will be discussing best website design tips for small business.
Following are some of the best web design tips for small business:
1. Make pages user friendly and mobile responsive:
People over the internet may not spend long time reading your website content not more than 1 minute. So try to visit your webpage within one minute to test what you can understand by reading your webpage. That's how you should write content of your website. So that user can understand topic of your content in less than one minute. And most important of all that your website should be responsive and mobile friendly as most of the search traffic coming from mobile devices now a days.
2. Adding suitable keywords:
That's one of the most important factors for websites to be indexed by search engines. Checkout some details for the keywords:
Title Tag: Title tag is one of the major factor for ranking it should not be more than 65 characters long as it only allows 65 characters
Meta Description: This is the description part where you can add more light about the topic of your page and use best keywords, following is the screenshot of search engine explaining both tags.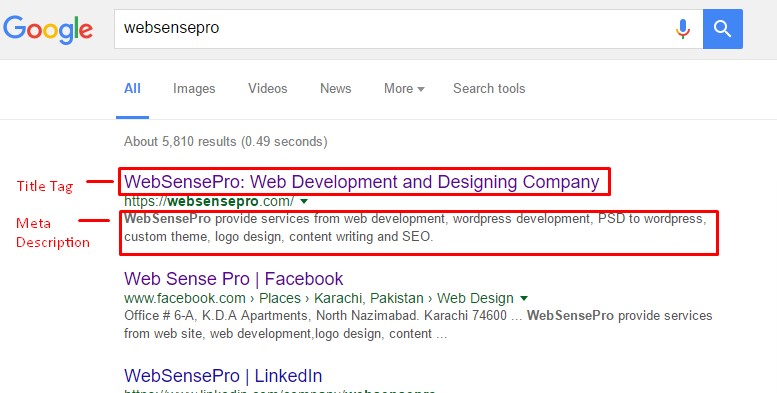 3. Faster to load:
Average load time speed should be no more than 3 seconds otherwise visitor will not stop and wait for your website to open and load completely. Try it your self will you be able to wait more than 10 seconds to load a webpage? NO. Gtmetrix is the website which can help you measure the load time of your website and will give you tips and tricks about enhancing speed of your website.
4. Add prominent call to actions:
Make it attractive for your visitor to do action in your website by creating eye catching "call-to-action" buttons. It should be prominent and easy to navigate which is one of the best website design tips for small business.