When we talk about building a website, our pretty strong course of action is to move towards WordPress. Despite of a true fact that 29% of the websites are built with WordPress there are other platforms to build website.
In this blog post we will discuss WIX, one of the popular hosted website building platform. Hopefully after reading this blog post you will make a better decision of choosing one of them for your next website.
A quick analysis
Before getting into in-depth details, let's do the basic analysis for each of the platform.
1) How simple is to build a website on both platforms
Wix
So if you are talking about easiness and simplicity of the platform, WIX IS THE WINNER. Wix is not super flexible if you talk about a little bit bigger website or an e-commerce website. But it's super easy to build a basic website with the help of Wix.
WordPress
With Wix you can start right away with no setup required or no technical knowledge but in WordPress we have to setup an environment for making WordPress to work. You will have to purchase 1) Domain 2) Hosting and then run a WordPress installer. It does not take more than 10-15 minutes
2) Customization and Functionality
When we talk about functionality and customization WORDPRESS IS THE CLEAR WINNER.
Wix

Adding functionality in Wix website is possible through Wix App Market. In App Market you will find about 288 apps to add some extra functionalities. But beyond these apps Wix is very limited if you want to add your own code or find a developer to make code tweeks for you.
WordPress
With WordPress SKY IS THE LIMIT, you will find complete Learning Management Systems, Client Management Systems and CRM's in shape of WordPress plugin. So if you are looking to create a membership based website, Ecommerce store or anything beyond that WordPress is there for you which have over 53000 plugins excluding thousands of premium plugins available in the market.
3) Control over your data
Wix
In wix knowledgebase you will clearly find that it all the data belongs to WIX and cannot be transferred elsewhere. So it's pretty dangerous to all companies who are sensitive about data ownership with strict terms and conditions.
WordPress
WORDPRESS IS AGAIN A WINNER in data ownership as you are 100% owner of all your data. You can change, edit and export anytime you want.
4) Cost Comparison
Wix
Wix have seperate pricing for Ecommerce and Non-ecommerce websites, following are the pricings:
Non-Ecommerce pricing: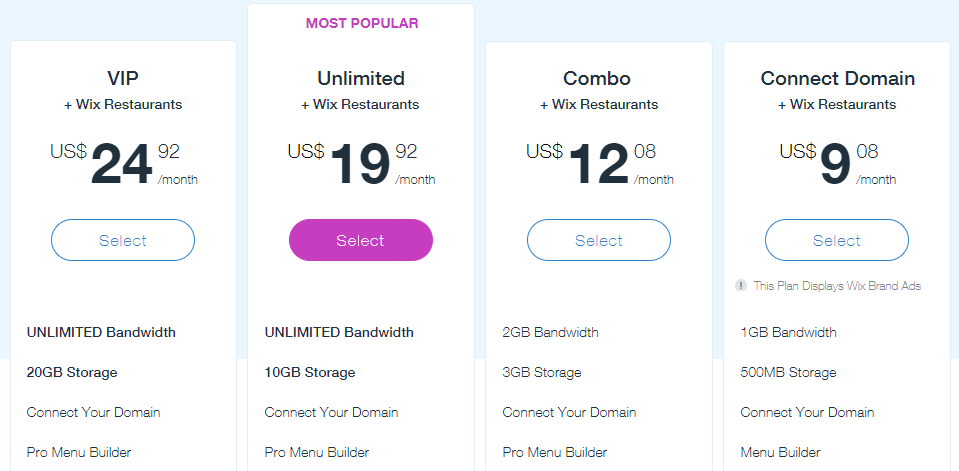 Ecommerce Pricing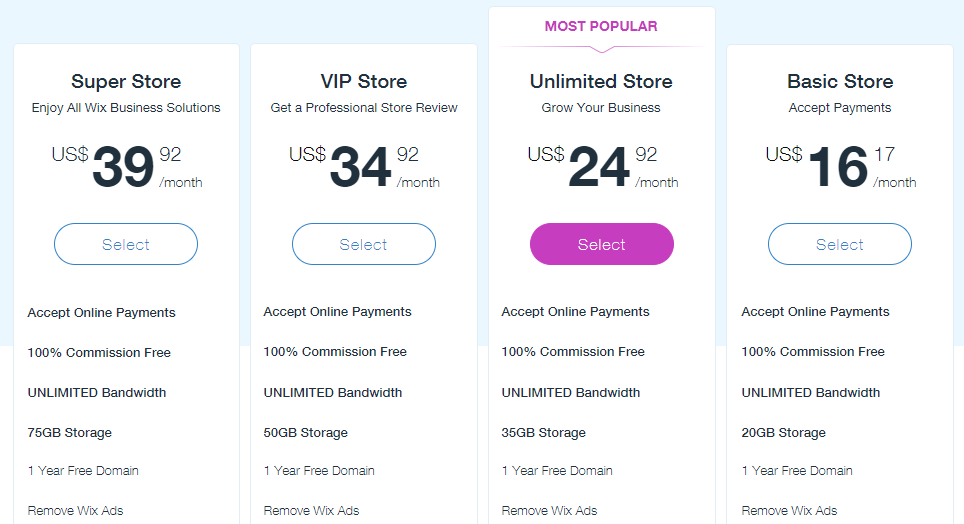 You can also host your website on Win for Free but Wix will show ads and their own URL so you can't add custom domains.
WordPress
WORDPRESS AGAIN WINS THE RACE as you just need to buy a domain and hosting which normally costs $15 for domain $50 for hosting on annual basis. There is a pretty wide variety of hostings available so it completely depends on you which one you choose.